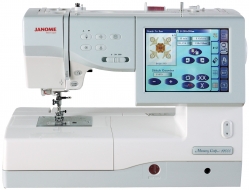 My husband bought me a Janome 6600 a few years ago and I fell in love with it. Before that I thought my Singer was great - I just didn't know. I became spoiled real quick - the knee lift, thread cutter and needle threader had me at hello.
So when he bought me an embrodery machine off craigs list I had a hard time adjusting. Like driving a standard all your life then going to an automatic - you keep going for the clutch. I sold that one to my sister Beverly and he bought me this fabulous Janome 11000 (1.0) and had it upgraded to the SE (2.0). I've been playing with it and it is AWESOME. I have a class this afternoon to learn more (I hope).
I also saw the Horizon and it is a nice machine too. It has alot of the same features as well as a bigger sewing area. Mine are 9" and the Horizon is 11".
I still have the same ole complaint - I just wish I had more time to play.
I have finished my JoAnn quilt. I wasn't able to quilt it as much as I would have liked but this will have to do. I still have 2 sided of the binding left to sew down and I got my backings in yesterday for the rhinestones. That will probably take a couple of days. Thank goodness the weekend is almost here. I should have it finished by Monday and I will put a picture on here.