I really enjoy quilting - it is a great way to show my creative side. Although most times I just feel like a copy cat, I still feel creative. But I spend most of my time doing alterations and piece work (helps pay the bills). I have been sewing professionally since 1980 and have a steady flow of work. (Hinders the quilting quite a bit). I even worked for our x-governor's wife and helped run her shop for years.
Anyway one thing I have always hated doing was putting in invisible zippers. I had a foot for my Singer that worked fairly well but it was still a pain. When I got my Janome that foot didn't work. So I made due. Dumb me. I didn't think Janome made a foot just for that. Right, as if they wouldn't think of that.
So I was playing on the computer and just happened across the Janome invisible zipper foot. I made the trek across town Saturday and bought me one. All I can say is amazing. I have never put one in so fast and so accurate. All I could think was 'Where have you been all my life'. My Janome gets better and better ever day.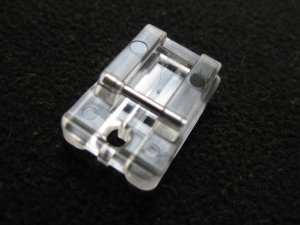 Just goes to show A little knowledge is dangerous, in this case ignorance wasn't bliss.